The Return of the Alien Case Beast
Last we saw the progress on the case, our partner had sent some updated images of the moulds.
I had cheekily asked the question of what would be involved in order to get cases produced in white. The response was that it took around 300-500 injections to get the white colour right and this would mean hundreds of Next cases being thrown away. These "intermediate" cases would contain little bits and specs of other colours, gradually decreasing until a perfect uniform white was achieved. The small quantity of white cases would result in a product costing 10 times as much. Anyway, back to reality.
The first injections took place and the T0 samples were produced for analysis and feedback was provided.
In a nutshell..
The main area of concern is the poor fit between the upper and lower case parts. This seems to be caused by two factors:
A. The upper case is warped (not flat), curling up at each end.
B. The lower case is dimensionally too small (too much shrinkage?) by about 0.85mm across the longest dimension.
The upper case is showing signs of not filling properly (short shot).
There is some flash in areas, in particular covering the keyboard screw holes (looks like someone tried clearing it?)
The texture is reasonable, but a bit patchy (non-consistent) and slightly too shiny….perhaps more pressure when moulding will force the polymer into the textured tooling and will matt the surface a little? I think this is pretty normal for ABS.
The black plastic (all black parts) seems a little light and milky compared to the sample polished moulding.
No logos yet, but I know you're dealing with this, as I have seen more recent tooling pics.
The response back from China was positive, that they would address the problems and for for us "not to worry".
Meanwhile Phil Candy fitted a Next board into the case and added his SLA model keyboard on top and voila! The closest example of a finished Next we had ever seen!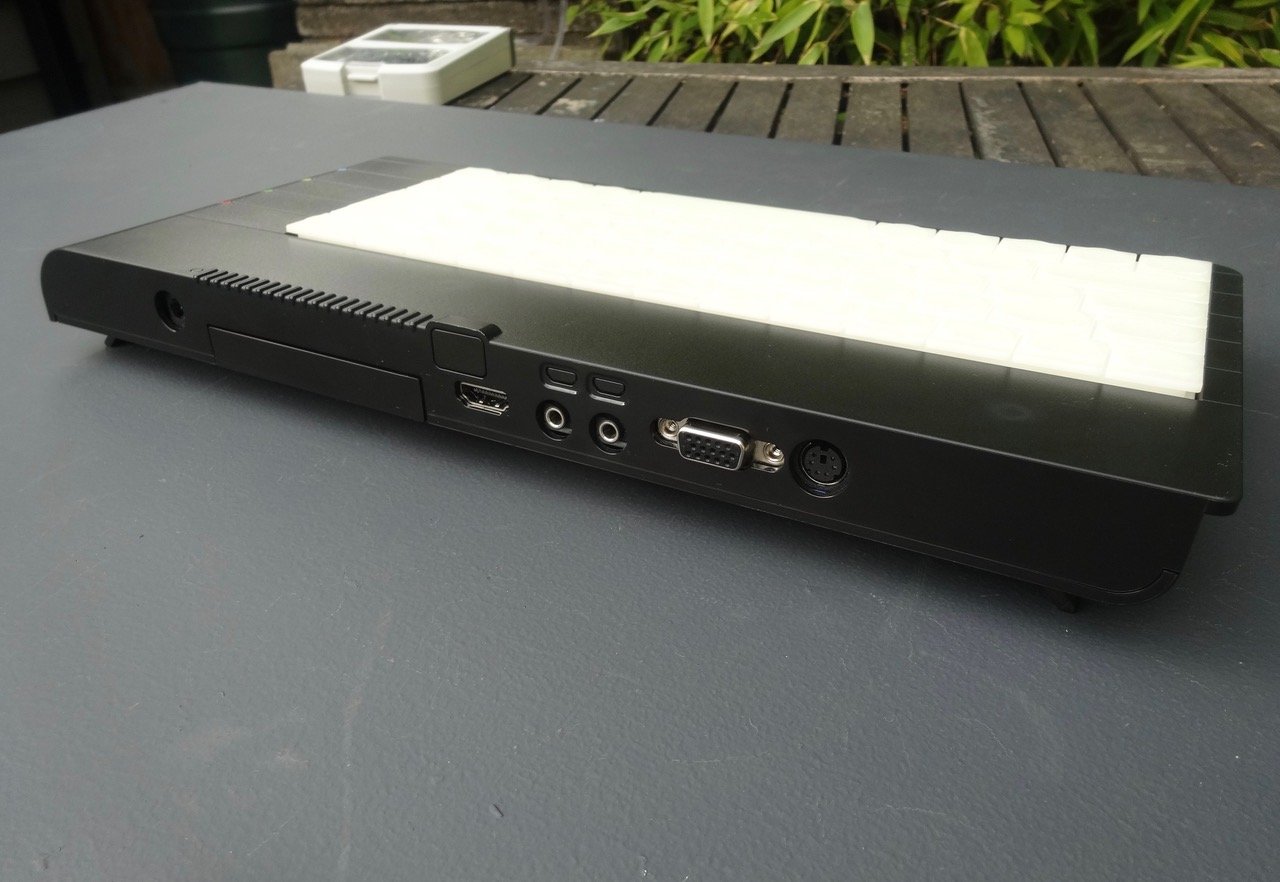 On the 13th June, our case partner had been working through the issues but there was one design factor that was causing them headaches. A few areas of the case are 0.7mm thick and these areas are relatively large. When injecting under pressure from a thick area to a thin area, these areas were not being injected fully (a short shot). In order to resolve this we were asked about getting rid of the plastic from these areas entirely.
After analysis of their requirement, Phil agreed with the toolmaker, deciding that removal would be better than a short shot, even though that short shot would be hidden. He appreciated that unlike many products, people would be actively opening their Next's up!
Meanwhile another observation was passed to our case partner, this one relating to the area where the mould ejector pin was located in the middle section of the bottom case.
The response came back from China within a few hours, they had already noticed that area and had already fixed it. They were having issues with printing the red on the Sinclair logo however. Initially they had attempted hot foil printing for this but it was proving very tricky. In order for us to get another Kickstarter update out, they sent over some new mould images which now contained the logos!